WAVE Runner
WAVE Runner is a scalable, turn-key solution for evaluating webpages across your enterprise—easily and inexpensively. WAVE Runner leverages the same WAVE technology that has evaluated over 100 million webpages since 2001. Results will be in your hands within five business days.
Data... and more
The WAVE Runner service will provide you:
A color-coded, sortable spreadsheet of all WAVE data for any number of site pages.
A 2-3 page analysis report of the WAVE data authored by one of WebAIM's web accessibility experts.
Documentation for each data point so you can address site accessibility issues right away.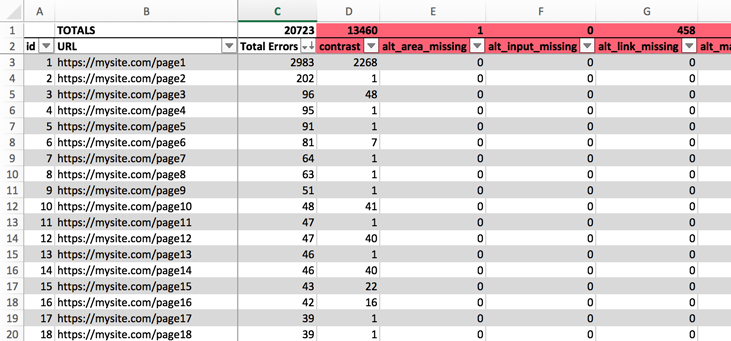 Beyond the easy-to-use spreadsheet, you'll also get a data analysis report. One of WebAIM's experts will analyze the data, look for trends and patterns, and identify how errors align with your site design and template. A 2-3 page detailed analysis report will be provided to help you better understand the data—and more importantly, help you start to make improvements based on it. You'll also receive detailed documentation for each WAVE item identified, including details on what each items means, how it impacts users with disabilities, and how you can fix it.
Requirements
Just complete the form below. After paying via our secure online site, you'll be prompted to send us a list or spreadsheet of publicly-available, HTML pages (Word and PDF document checking is not available) on your site. We'll do the rest—and will provide everything to you via e-mail within 5 business days.
Pricing
$500 for up to 10,000 web pages and $100 for each additional 10,000 pages. If you have more than 50,000 pages, contact us for pricing, or consider the WAVE Stand-alone API or Pope Tech.
A re-evaluation of the initial pages and an updated analysis report (focused on changes and trends from the previous report) is $250 for up to 10,000 web pages, then $100 for each additional 10,000 pages.
Order
Use the following form to order and pay online via credit card.
Questions?
Contact us if you have any questions about the WAVE Runner product and services.